Smoked Salmon and Sour Cream Frittata
We go beyond the ordinary with our savory brunch frittata - the perfect one-pan dish for entertaining family and friends.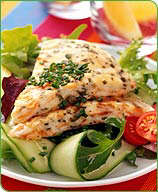 Yield 4 servings
16 oz fat-free egg substitute
1/2 cup fat-free sour cream
1/4 tsp table salt
1/4 tsp black pepper
4 oz smoked salmon, diced
2 Tbsp capers, drained
2 Tbsp chives, fresh, chopped
Preheat broiler.
Whisk together egg substitute, sour cream, salt and pepper in a large bowl; stir in salmon, capers and chives.
Coat a large ovenproof skillet with cooking spray and set pan over medium heat. When pan is hot, add egg mixture and cook until almost cooked through to the surface, frequently smoothing the surface with a spatula and lifting the mixture from the sides of pan to allow uncooked eggs to run to the bottom, about 5 to 6 minutes.
Place frittata under broiler and broil until cooked through and golden on top, about 1 to 2 minutes. Slice into 4 pieces and serve.
Note: If you do not have an ovenproof skillet, simply cover the handle of your skillet with aluminum foil before broiling.
Weight Watcher: 3 POINTS per serving
Copyright: Weight Watchers - order a Weight Watchers subscription!