Basil Potato Focaccia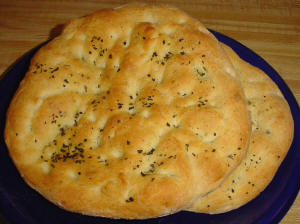 2 1/2 tsp Yeast, dry active
1 1/4 cups Water, warm
1 Potato, large baker
1/4 tsp Salt
4 1/2 cups Flour
1 Tbsp Dried basil
2 Tbsp Olive oil
Boil or bake potato and when done mash it up and cool.
Dissolve yeast in warm water and let proof.
When potato is cool and yeast is proofed add together in a bowl, then add salt and flour and mix. Add basil and then mix well. Turn the dough out onto a floured surface and knead the dough adding flour until it is not sticky anymore, for about 10 minutes. Put into the bowl and cover with plastic and let rise in warm place till doubled in size.
Punch down and divide the dough in half and make a free form shape, then place on a lightly oiled baking sheet and flatten out to fit the baking sheet. Proof the dough for about 35 minutes or more till it feels like a marshmallow.
Using your fingers poke the dough all over to dock it. Then brush it lightly with olive oil. Bake at 400 F in the bottom third of your oven for about 40 minutes or until golden brown. Remove from oven when done and let cool.