Peanut Butter Turtle Rolls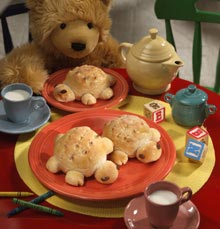 Makes 8 turtles.
4 to 4 1/2 cups all-purpose flour
1/2 cup sugar
2 packages (1/2 ounce or 4 1/2 tsp) Fleischmann's RapidRise Yeast
1 teaspoon salt
1 cup milk
1/2 cup water
1/2 cup peanut butter, at room temperature
1 egg, lightly beaten
1 tablespoon water
Chopped peanuts and/or sugar, optional
Peanut or date pieces
In large bowl, combine 2 cups flour, 1/2 cup sugar, undissolved yeast, and salt. Heat milk and water until very warm (120 to 130 F); stir into dry ingredients. Stir in peanut butter and enough remaining flour to make soft dough. Knead with stand mixer or on floured surface until smooth and elastic, about 6 to 8 minutes. Cover; let rest 10 minutes.
Grease 2 baking sheets. Divide dough into 8 equal portions.
To make 1 turtle from each portion: Reserve one-fourth of portion. Shape remaining dough into smooth ball for body. Place on greased baking sheet. Divide reserved dough in half. From 1 half, pinch off piece and roll to small rope for tail; form remaining piece into oblong head. Attach head and tail to body; pinch to seal. Divide remaining piece into 4 equal pieces. Roll to 2-inch ropes for legs; place partially under body in appropriate places.
Repeat with remaining dough to make 8 turtles. Cover; let rise in warm, draft-free place until doubled in size, about 30 to 60 minutes.
With scissors, make small snips in dough (1/8 inch deep) across body to mark shell. Make 2 small cuts at end of each leg to make webbed feet. Combine egg and 1 tablespoon water; brush over dough. If desired, sprinkle with peanuts and/or sugar. Insert peanut or date pieces for eyes.
Bake at 375 F for 15 to 20 minutes. Remove from sheets; let cool on wire racks.
Nutrition information per serving (1 turtle): calories 424; total fat 11g; saturated fat 2g; cholesterol 29mg; sodium 395mg; total carbohydrate 69g; dietary fiber 3g; protein 14g.
Source: Fleischmann's Yeast, a division of Burns Philp Food, Inc.