Grilled Figs with Goat Cheese and Prosciutto
Make fragrant skewers using the longest, sturdiest rosemary sprigs you can find. Bamboo or metal skewers can also be used with sprigs of rosemary tucked into skewered figs.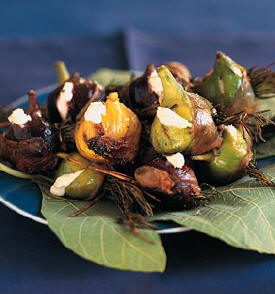 Yield: 6 servings
8 ounces fresh soft goat cheese
2 teaspoons finely chopped fresh rosemary
Salt and freshly ground black pepper
24 fresh figs, mixed varieties
1/4 pound thinly sliced prosciutto
6 long woody sprigs rosemary
Olive oil for brushing and drizzling
Combine goat cheese, rosemary, and a pinch of salt and pepper in a small mixing bowl, and stir.
Make a small slit in bottom or side of each fig. Fill a pastry bag fitted with a small plain tip with cheese mixture. Pipe cheese into each fig through slit. Fill figs with just enough cheese so they expand slightly.
Tear or cut the prosciutto slices into long strips. Wrap a strip of prosciutto around each fig, and skewer 4 figs on each rosemary sprig. Brush figs with olive oil, and season with salt and pepper.
Place figs on a moderately hot grill, rotating skewers until figs are very hot and cheese starts to ooze, about 6 minutes. Remove from grill; serve immediately with a drizzle of olive oil and good bread.
Source: Martha Stewart