Strawberry Napoleon
Layered with fresh berries and sweetened cream, this napoleon is light on your taste buds as well as your waistline.
Yield: 12 servings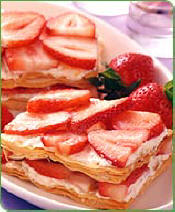 8 pieces phyllo dough, refrigerated preferred over frozen
cooking spray
6 tbsp sugar
2 tsp sugar
3 oz neufchatel cheese, softened ***
1/2 cup light sour cream
2 1/2 tsp orange zest, freshly grated
3/4 cups lite whipped topping
4 cups strawberries, thinly sliced, about 1/4-inch thick
Preheat oven to 350 F.
Place one sheet of phyllo dough on a sheet pan, coat with cooking spray and sprinkle with 1 teaspoon of sugar; repeat with remaining layers of phyllo, cooking spray and sugar. Cut the stacked dough lengthwise into 3 strips and prick all over with a fork. Bake for 30 minutes, or until golden; remove to a wire rack to cool completely.
In a mixer, beat the cheese until fluffy. Add remaining 1/4 cup of sugar, sour cream and zest, and continue to beat until light and airy; fold in the whipped topping.
Carefully place one phyllo strip on a serving dish and spread with half the cheese mixture; top with half the strawberries. Repeat with the second phyllo strip and remaining cheese and berries. Top with the third phyllo strip, slice into 12 pieces and serve.
*** Neufchatel - French, from Neufchâtel, France
A soft unripened cheese similar to cream cheese but containing less fat and more moisture
Weight Watcher: 2 POINT per serving
Copyright: Weight Watchers - get more Weight Watchers recipes!