Strawberry Log Cake
Yield: 1 cake roll - 8 servings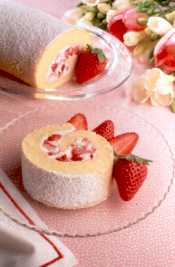 Cake:
4 large egg yolks
2 large eggs
1/2 cup granulated sugar
1 cup sifted cake flour
1 teaspoon baking powder
1 teaspoon salt
1 1/2 tablespoons warm water
2 teaspoons vegetable oil
1 teaspoon vanilla
Powdered sugar
Strawberry Filling:
l cup whipping cream
1 tablespoon sugar
3 tablespoons prepared lemon curd, at room temperature*
1 pint basket (about 3 1/4 cups) California strawberries, stemmed and coarsely chopped
Garnish:
Powdered sugar
1 pint basket (about 3 1/4 cups) California strawberries
To make Cake:
Heat oven to 375 degrees. Line 18- x 12-inch jellyroll - sheet pan with aluminum foil; coat with vegetable cooking spray.
In large mixer bowl beat yolks and eggs at high speed about 5 minutes until thick and lemon-colored. Continuing at high speed, gradually beat in granulated sugar until mixture is pale and thick. Gently fold in dry ingredients except powdered sugar to blend thoroughly. Fold in water, oil and vanilla. Spread batter evenly in prepared pan. Bake in center of oven about 10 minutes until springy to the touch.
Meanwhile, coat a clean dishtowel with powdered sugar. Invert hot cake onto towel close to one long edge. Gently peel off foil. Trim 1/2 inch off each short side of cake. Starting from long side, tightly roll cake and towel. Set on rack to cool completely.
To make Strawberry Filling:
In mixer bowl whip cream to form soft peaks. Beat in sugar to form stiff peaks. Fold in lemon curd to blend thoroughly. Mix in chopped strawberries. Gently unroll cake. Spread strawberry mixture evenly on cake and re-roll. Place seam-side-down. Dust with powdered sugar. Cut into 8 (about 1 3/4-inch) equal slices. Place each slice on serving plate. Garnish with whole and halved strawberries.
* Lemon curd can be found in the jam and jelly or gourmet section of most supermarkets.
Source: California Strawberry Commission