USA Flag Pizza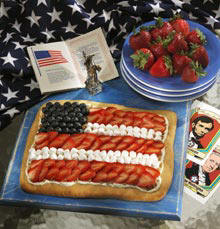 Yield 1 (12 x 10-inch) pizza
1 1/2 to 2 cups all-purpose flour
1/4 cup firmly packed brown sugar
1 envelope (1/4 ounce or 2 1/4 tsp) FLEISCHMANN'S RapidRise Yeast
1/2 teaspoon salt
1/2 cup water
1/4 cup butter or margarine
1 teaspoon vanilla extract
Cream Cheese Topping (recipe included)
Granola
Blueberries, sliced strawberries
Miniature marshmallows
In a large bowl, combine 2/3 cup flour, sugar, undissolved yeast, and salt. Heat water and butter until very warm (120 to 130 F). Gradually add to flour mixture. Beat 2 minutes at medium speed of electric mixer, scraping bowl occasionally. Stir in vanilla and enough remaining flour to make a soft dough. Knead on lightly floured surface until smooth and elastic, about 6 to 8 minutes. Cover; let rest 10 minutes.
Roll dough to 12 x 10-inch rectangle; place on greased baking sheet. Prick surface of dough randomly with fork; let rest 10 minutes.
Bake at 425 F for 12 to 15 minutes or until golden. Remove from sheet; cool on wire rack.
When completely cooled, spread Cream Cheese Topping onto crust to within 1/2 inch of edge; sprinkle with granola. Arrange fruits and marshmallows over top to resemble the U.S. flag. Serve promptly after topping. Refrigerate leftovers.
Cream Cheese Topping:
In a small bowl, combine 1 (3-ounce) package cream cheese, softened; 1/4 cup sour cream, 1/4 cup sugar, and 1/2 teaspoon vanilla extract. Stir until smooth.
Nutrition Information Serving size: 1/12: Calories: 100 Total fat: 11g Saturated fat: 6g Cholesterol 30mg Sodium: 190mg Carbohydrates 34g Sugars: 17g Dietary fiber: 2g Protein: 4g
Source: Fleischmann's Yeast, a division of Burns Philp Food, Inc.
More 4th of July Recipes & Cake Decorating