Frosted Apple Squares
The fresh apples and spices in the Apple Filling give these squares an irresistible apple pie flavor.
Yield: one 15" x 10" square cake
Dough
3 3/4 to 4 cups all-purpose flour
2 tablespoons sugar
1 envelope (1/4 ounce or 2 1/4 tsp) FLEISCHMANN'S RapidRise Yeast
1 teaspoon salt
1/2 cup water
1/2 cup milk
1 cup butter or margarine
4 egg yolks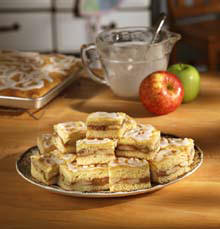 Apple Filling
1/2 cup water
1/2 cup sugar
3 tablespoons cornstarch
2 teaspoons ground cinnamon
1/2 teaspoon ground nutmeg
1/4 teaspoon salt
1 egg yolk
3 medium cooking apples, cored, peeled, sliced
Powdered Sugar Glaze
2 cups powdered sugar, sifted
3 to 4 tablespoons milk
Apple Filling:
In a saucepan, combine 1/2 cup water, 1/2 cup sugar, 3 tablespoons cornstarch, 2 teaspoons ground cinnamon, 1/2 teaspoon ground nutmeg, and 1/4 teaspoon salt. Stir in 1 slightly beaten egg yolk and 3 medium cooking apples, cored, peeled and thinly sliced. Cook over medium heat, stirring constantly until thick, about 5 minutes. Remove from heat; let cool.
Dough:
In a large bowl, combine 1 1/4 cups flour, sugar, undissolved yeast, and salt. Heat water, milk, and butter until very warm (120 to 130 F). Gradually add to flour mixture. Beat 2 minutes at medium speed of electric mixer, scraping bowl occasionally. Add egg yolks and 1/2 cup flour; beat 2 minutes at high speed. Stir in enough remaining flour to make a soft dough.
Divide dough in half; roll half of the dough on lightly floured surface to fit the bottom of ungreased 15" x 10" baking pan. Spread with Apple Filling. Roll remaining dough large enough to cover filling. Seal edges together. Snip surface of dough with scissors to let steam escape. Cover; let rise in warm, draft-free place until doubled in size, about 45 minutes.
Bake at 375 F for 20 minutes or until evenly golden. Drizzle with Powdered Sugar Glaze. Let cool in pan; cut into squares.
Powdered Sugar Glaze:
In a small bowl, combine 2 cups powdered sugar, sifted; and 3 to 4 tablespoons milk. Stir until smooth.
Source: Fleischmann's Yeast, a division of Burns Philp Food, Inc.