Fettuccine with Lobster, Avocado, Tomato in White Wine Cream Sauce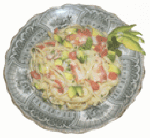 Yield: 4 servings
1/2 cup white wine
2 tablespoons sherry wine vinegar
1/2 cup lobster stock
4 tablespoons minced shallots
2 cups heavy cream
1 pound Maine lobster meat, fresh or frozen
1-1/2 avocados, peeled, and diced
8 plum tomatoes, peeled and diced
Salt and pepper to taste
3 quarts water
1 tablespoon salt
1-1/2 pounds fresh lemon fettuccine pasta
Parsley leaves, chopped as garnish
Lobster and white wine cream sauce:
In a medium sized saucepan, over moderately high heat, combine the wine, vinegar, lobster stock and shallots, stirring frequently while bringing to a boil. Continue stirring and boiling until liquid has reduced its volume to a little less than 1/2 cup.
Add cream and continue to boil. Reduce until thickened.
Add lobster meat, avocado and tomato, bring to a boil; season with salt and pepper. Reduce heat to a minimum to keep warm.
Assembly:
In a 4-to 6-quart pot, bring water to a boil, add salt, return to boiling and add pasta. Stir frequently making sure the strands do not stick to pot or each other. Boil the pasta according to package directions or until al dente. Drain and return to pot.
Add lobster sauce and toss to mix.
Serve immediately, garnished with chopped parsley.
Nutritional information per serving (12 ounces): calories - 1,363; cholesterol - 273 milligrams; protein - 51 grams; sodium - 2,077 milligrams; fat - 60 grams; dietary fiber - 12 grams; carbohydrate - 153 grams; calcium - 267 milligrams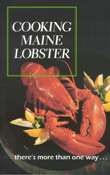 Source: Cooking Maine Lobster: there's more than one way ... by Julienne Guyette and friends.
Recipe by Diana Ferry, Radisson Hotel Eastland, Portland, Maine.
Try meaty "steaks from the sea", tender fillets and a variety of sumptuous seafood favorites.
Buy Seafood!!