Rice Spoon Bread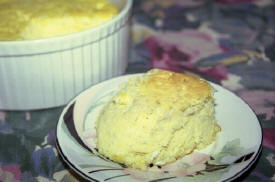 Yield: 6 servings
2 cups milk
1/2 cup water
2 eggs
1/4 cup melted butter
1/2 cup cornmeal
1 teaspoon baking powder
1 1/2 cups rice - cooked and drained
Preheat oven to 325 F.
Generously butter a two-quart baking dish or 6 soufflé ramekins.
In a large bowl, mix milk, water, eggs, and melted butter, stirring well. Stir in cornmeal and baking powder, blend well. Stir in rice.
Pour batter into prepared baking dish. Bake for one hour or until set in center.