Madeleines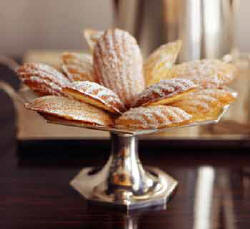 Yield: about 3 dozen cookies
1 1/2 sticks (3/4 cup) unsalted butter, melted and cooled, plus additional for brushing molds
1 1/4 cups sifted cake flour (not self-rising; sift before measuring)
1/2 teaspoon baking powder
1/4 teaspoon salt
3 large eggs
1 teaspoon vanilla
2/3 cup granulated sugar
2 teaspoons finely grated fresh lemon zest
Confectioners sugar for dusting
Special equipment:
3 Madeleine pans, each with 12 molds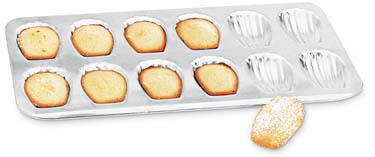 Set oven racks in upper and lower thirds of oven and preheat oven to 350 F. Brush molds with some melted butter.
Sift together flour, baking powder, and salt.
Beat eggs in a large bowl with an electric mixer at high speed until light and foamy, about 30 seconds with a standing mixer or 1 minute with a handheld, then beat in vanilla. Gradually add granulated sugar, beating constantly at high speed, and continue to beat until mixture is tripled in volume, about 3 minutes with standing mixer or 5 minutes with handheld.
Sift flour mixture in 3 or 4 batches over egg, folding in each batch until just combined. Then fold in zest and 3/4 cup melted butter.
Spoon a rounded tablespoon of batter into each mold (they will be about two-thirds full) and bake in upper and lower thirds of oven (2 pans will fit on 1 rack), switching position of pans halfway through baking, until golden around edges and a tester inserted in centers comes out clean, 10 to 12 minutes total.
Invert Madeleines onto a rack and dust scalloped sides with confectioners sugar.
Source: Gourmet Magazine - order a subscription