Halloween Pumpkin Spice Cookies
Yield about 6 1/2 dozen cookies
Decorating cookies can be an enjoyable activity for a Halloween party. Using colorful royal icing, you can decorate round spice cookies to look like jack-o'-lanterns. Using a pastry bag fitted with a #2 tip, pipe around the edge of the cookie and outline a jack-o'-lantern's face with icing. Then fill in the areas using another pastry bag filled with royal icing of a slightly thinner consistency. To make royal icing thicker, add more confectioners' sugar; for thinner icing, add another egg white.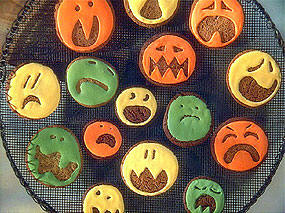 4 3/4 cups all-purpose flour
2 tablespoons baking soda
3/4 teaspoon salt
1/2 teaspoon baking powder
2 teaspoons ground cinnamon
1 1/2 teaspoons ground ginger
3/4 pound (3 sticks) unsalted butter, room temperature
1 3/4 cups sugar
2 large eggs
1 teaspoon pure vanilla extract
1/2 cup molasses
Royal Icing
Paste or gel food coloring
Combine flour, baking soda, salt, baking powder, cinnamon, and ginger in a large bowl; sift, and set aside.
In the bowl of an electric mixer fitted with the paddle attachment, combine butter and sugar. Beat, starting on low speed and increasing to high, until mixture is fluffy, about 2 minutes; scrape the sides of the bowl down once with a rubber spatula. Add eggs, one at a time, and vanilla; beat on medium speed until just combined, scraping down the sides of the bowl after each addition.
Turn off mixer. Add molasses, and mix on medium speed until just combined. Scrape sides of the bowl, and add dry ingredients. Mix, starting on low speed and increasing to medium high, until ingredients are just combined, about 30 seconds.
Transfer dough to a clean work surface. Roll the dough into four 1 1/2-inch-diameter logs. Wrap in parchment or plastic wrap, and refrigerate until firm, 1 to 2 hours.
Heat oven to 350 F. Unwrap, and slice each log into 3/8-inch-thick rounds. Place rounds on parchment-lined baking sheets. Bake until cookies crack slightly on the surface, 12 to 15 minutes. Remove from oven, and let cool on the baking sheet for 2 minutes before transferring to a cooling rack.
When completely cool, decorate with royal icing mixed with desired food coloring.
Source: Martha Stewart
more Halloween Recipes