Popcorn Owls
Sweet and chewy popcorn balls are a "hoot" when they're formed into wide-eyed owls perfect for a Halloween party. "They take a little bit of assembly but draw a lot of compliments," writes Emma M. from Amsterdam, New York.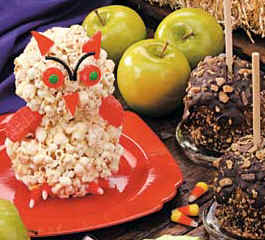 Yield: 5 owls.
5 quarts popped popcorn
2 cups sugar
1-1/2 cups water
1/2 cup light corn syrup
1/2 teaspoon salt
3 tablespoons butter or margarine
1 teaspoon white vinegar
1 to 2 tablespoons marshmallow creme
20 candy corn candies
20 candy orange slices
10 M&M's miniature baking bits
Black shoestring licorice
Place popcorn in a large bowl; keep warm in a 200 F oven. In a heavy saucepan, combine the sugar, water, corn syrup and salt. Cook over medium heat until a candy thermometer reads 250 F (hard-ball stage). Remove from the heat; stir in butter and vinegar until butter is melted. Immediately pour over popcorn; toss to coat.
When mixture is cool enough to handle, quickly shape into five 3-1/4-in. balls and five 4-in. balls, dipping hands in cold water to prevent sticking. Flatten bottom of popcorn balls slightly for stability. Place a small ball on top of a large ball, forming the owl's head and body.
Immediately decorate owl, using marshmallow creme to attach candies. Add candy corn for claws. Press the orange slices into sides for wings. Flatten and cut additional orange slices to make triangle ears and nose and 3/4-in. circular eyes. Press M&M's into orange circles to complete the eyes. Add a 3-in. licorice strip above eyes.
Source: Taste of Home - subscribe to Taste of Home or send a gift subscription
More Halloween Recipes & Ideas