Halloween Lollipops
Making Halloween lollipops is a fun way to gear up for the holiday, and when you're done, you'll have treats to hand out to the goblins at the door or as party favors. These sweet orange-flavored suckers are decorated with creepy candies. You can wrap them in cellophane and tie with black and orange ribbons, or press the sticks into a pumpkin for people to take themselves.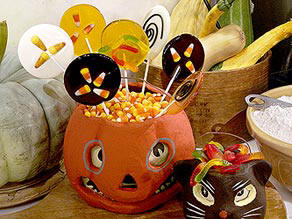 Yield 10 Lollipops
2 cups sugar
2/3 cup light corn syrup
1/4 cup water
10 drops orange food coloring
8 drops pure orange oil or other flavor
10 lollipop sticks
Assorted candies, for decorating
Line three baking sheets with Silpats (nonstick baking mats), or grease them generously with vegetable oil. Prepare an ice-water bath. Combine sugar, corn syrup, and 1/4 cup water in a small saucepan, and place over medium-high heat. Stir continuously to dissolve sugar. When the syrup comes to a boil, stop stirring and clip on a candy thermometer. Continue to cook, without stirring, until the mixture turns golden and reaches 300 to 310 F (hard-crack stage) on the thermometer, 5 to 7 minutes. Occasionally wash the sides of the pan using a clean brush dipped in cold water to prevent crystals from forming.
Remove the pot from the heat. Transfer the syrup to a 2-cup heatproof measuring cup. Using a heatproof rubber spatula, stir in the food coloring and orange oil until completely combined.
Working quickly, pour ten 3-inch circles of syrup onto prepared baking sheets. Press in lollipop sticks. With your fingertips or a toothpick, lightly press candies into the syrup. Set aside until completely cooled and hardened.
Source: Martha Stewart
more Sugar Artistry - more Halloween Recipes & Ideas