Angel Food Cake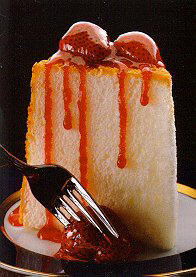 Yield: 12 servings - 1 (10-inch) cake
12 egg whites
1 1/2 teaspoons cream of tartar
1 1/2 cups sugar, divided
1 1/2 teaspoons vanilla
1/2 teaspoon almond extract
1 cup sifted cake flour
1/4 teaspoon salt
Fruit or frosting, optional
In large bowl, using a mixer, beat egg whites with cream of tartar at high speed until foamy. Add 3/4 cup of the sugar, 2 tablespoons at a time, beating constantly until sugar is dissolved* and whites are glossy and stand in soft peaks. Beat in flavorings.
Sift together flour, remaining sugar and salt. Sift about 1/2 cup of the flour mixture over whites and gently fold just until flour disappears. Repeat, folding in remaining flour mixture 1/2 cup at a time. Pour into ungreased 10 x 3 3/4-inch Angel Food pan. Gently cut through batter with metal spatula.
Bake in preheated 375 F oven until top springs back when lightly touched with finger, about 30 to 40 minutes. Invert cake in pan on funnel or bottle neck. Cool completely, about 1 1/2 hours. With narrow spatula or knife, loosen cake from pan and gently shake onto serving plate.
Top with fruit or frost, if desired.
*Rub just a bit of meringue between thumb and forefinger to feel if sugar has dissolved.
Chocolate Angel Food Cake:
Omit almond extract and increase vanilla to 2 teaspoons. Reduce flour to 2/3 cup and sift in 1/3 cup Callebaut Cocoa Powder. Prepare batter and bake as above.