French Toast a la Eggnog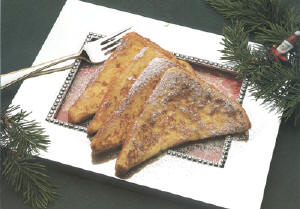 Yield: 2 servings
Cooking spray
2 eggs
1/2 to 3/4 cup eggnog - make your own
4 slices thick-cut bread (approximately 1 1/2 inches thick)
Fresh fruit slices, preserves, or syrup, optional
Preheat oven to 350 F.
Evenly coat baking sheet with cooking spray. In shallow dish, beat together eggs and eggnog until well blended. Dip bread in egg mixture, one slice at a time, letting stand 30 to 45 seconds on each side. Place slices on baking sheet. Bake for 15 minutes. Remove from oven and turn slices. Return to oven and continue baking until lightly browned and no visible liquid egg remains, about 15 minutes.
Serve immediately with choice of topping, if desired.