Nut Brittle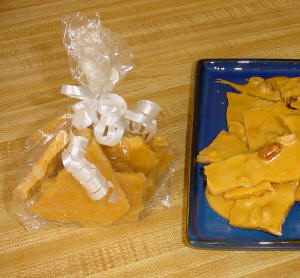 A classic, crunchy favorite for the whole family to enjoy. A perfectly delicious gift for family and friends.
1 cup Sugar
1/3 cup Light Corn Syrup
1/2 cup Water
1 cup Peanuts (can substitute any nuts)
2 Tbsp Butter
1 Tsp Vanilla
1/2 tsp Salt
1 tsp Baking Soda
Line a sheet pan with parchment paper and spray lightly for easy release, set aside.
Put water, sugar, and corn syrup in a pot and heat over medium heat till sugar dissolves, do not stir. Increase heat to high, and bring to a boil. Boil till the mixture comes to 260F on a candy thermometer.
If you do not have a candy thermometer boil till it just starts to turn color.

Reduce heat to medium, and add the nuts and butter to the mixture and stirring constantly, cooking them until the thermometer reaches 295F. Remove from heat and add the vanilla, salt, and baking soda, stirring constantly until well incorporated. The mixture will foam up a little bit.

Immediately pour the mixture on the sprayed parchment paper and spread into a thin layer.

Let cool completely until cold and hard.

When the brittle is completely cooled and hard, break into small pieces and store in air tight containers at room temperature. The brittle will hold for one month.

For gift giving put several pieces in a small plastic bag and tie with a ribbon. Store in an air tight container and give as a gift within the month.
brittle, nut brittle, peanut brittle, britle,