Christmas Tree Bread
Yield: 1 tree - 16 servings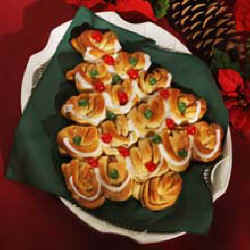 4 3/4 cups all-purpose flour
1/2 cup sugar
2 envelope (1/2 ounce or 4 1/2 tsp) Fleischmann's RapidRise Yeast
2 teaspoons salt
3/4 cup milk
1/2 cup water
1/2 cup butter or margarine
1 egg, large

Cinnamon Filling:
1/2 cup butter
1/4 cup firmly packed brown sugar
3 tablespoons sugar
1 teaspoon ground cinnamon.

Maraschino cherries, optional
In a large bowl, combine 1 1/3 cups flour, sugar, undissolved yeast, and salt. Heat milk, water, and butter until very warm (120 to 130 F). Gradually add to dry ingredients. Beat 2 minutes at medium speed of electric mixer, scraping bowl occasionally. Add egg and 1 cup flour; beat 2 minutes at high speed. Stir in remaining flour to make a stiff batter. Cover tightly with plastic wrap. Refrigerate 2 to 24 hours.
Prepare cinnamon filling. In a bowl, cut 1/2 cup butter into 1/4 cup firmly packed brown sugar and 3 tablespoons sugar until crumbly. Stir in 1 teaspoon ground cinnamon. Set aside.
Remove dough from refrigerator.
On lightly floured surface, roll dough to 18- x 10-inch rectangle. Sprinkle Cinnamon Filling over dough to within 1 / 2-inch of edges. Fold crosswise in thirds, to enclose filling. Press edges to seal. Using a dough wheel cut dough into 16 strips.
Holding ends of each strip, tie into a knot. On lower third of large greased baking sheet, arrange 5 knots in a row, with edges touching. Build a tree with additional rows of knots – 4 knots in second row, 3 knots in third row, 2 knots in fourth row, and one for top of tree. Place remaining knot at bottom center of tree to make a trunk.
Cover; let rise in warm, draft-free place until doubled in size, about 1 hour.
Bake at 350 F for 25 minutes or until done. Decorate with maraschino cherries, if desired.
Nutrition Information Per Serving (1/16 of recipe): Calories : 300, Total fat : 12 g, Saturated fat : 7 g, Cholesterol : 45 mg, Sodium : 420 mg, Carbohydrates : 41 g, Dietary fiber : 1 g, Protein : 5 g
Source: Fleischmann's Yeast, a division of Burns Philp Food, Inc.
more Holiday Recipes