Honey Spice Oatmeal Cookie Mix - Gift Jar
Makes about 6 dozen cookies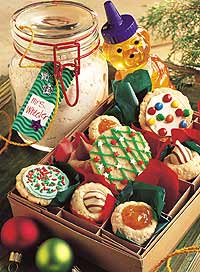 Gift Mix:
2-3/4 cups all-purpose flour
1 Tbsp. ground ginger
2 tsp. ground cinnamon
1 tsp. baking soda
1/2 tsp. salt
1/4 tsp. ground cloves
1/4 tsp. nutmeg
1-1/2 cups Quaker oats (quick or old fashioned, uncooked)
To make mix:
In large bowl, combine flour, ginger, cinnamon, baking soda, salt, cloves and nutmeg; mix well. Add oats; mix well. Transfer to resealable plastic bag, an unbreakable decorative jar with lid or other airtight container. Store in cool dry place.
Ingredients needed to complete Cookies:
1/2 pound (2 sticks) butter, softened (no substitutions)
3/4 cup honey
1 large egg
To prepare cookies:
1. In a large bowl, beat butter and honey with electric mixer until creamy. Add egg; beat well. Add half of cookie mix; beat well. Add remaining cookie mix; beat well. Divide dough into thirds; place each on a piece of plastic wrap and flatten to 1/2-inch thickness. Wrap tightly; chill at least 4 hours.
2. Heat oven to 350 F. Remove one portion of dough from refrigerator. Shape dough into 1-inch balls. Place 2 inches apart on ungreased cookie sheets. Flatten to 1/8-inch thickness with bottom of glass dipped in granulated sugar. Repeat with remaining dough.
3. Bake 5 to 7 minutes, just until centers are set. (Cookies will feel soft. Do not overbake.) Cool 1 minute on cookie sheets; remove to wire rack. Cool completely. Store tightly covered.
Variations:
Decorated Cookies:
Decorate cooled cookies with melted dark or white chocolate, ready-to-spread frosting, decorator frosting in tubes, assorted small candies or candy sprinkles.
Thumbprint Cookies
Use thumb to make a deep indentation in center of each cookie dough ball. Bake 6 to 8 minutes or until very light golden brown. Remove cookies from oven; press small dark or white chocolate candy into indentation or fill with 1/2 teaspoon preserves. Cool and store as directed.
Source: National Honey Board
more Holiday & Gift Jar Recipes