Herbed Roast Beef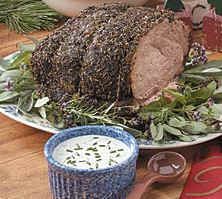 Yield: 10-12 servings.
2 bone-in beef rib roasts (4 to 6 pounds each)
2 teaspoons fennel seed, crushed
2 teaspoons dried rosemary, crushed
2 teaspoons each dried basil, marjoram, savory and thyme
2 teaspoons rubbed sage
2 medium onions, sliced
6 fresh rosemary sprigs
Horseradish Sauce:
1-1/2 cups (12 ounces) sour cream
1/4 cup prepared horseradish
2 tablespoons snipped chives
3 tablespoons lemon juice
Trim and tie roasts if desired. In a small bowl, combine the fennel seed, crushed rosemary, basil, marjoram, savory, thyme and sage; rub over roasts. Place with fat side up on a rack in a roasting pan. Top with onions and rosemary sprigs. Bake, uncovered, at 350 for 2-1/2 to 3-1/2 hours or until meat reaches desired doneness (for rare, a meat thermometer should read 140; medium, 160; well-done, 170).
Discard onions and rosemary. Let roasts stand for 10-15 minutes before slicing. Meanwhile, in a small bowl, combine the sauce ingredients. Serve with beef.
This recipe is part of a Holiday Menu
Source: Nancy L in Taste of Home Magazine - subscribe to Taste of Home or send a gift subscription