Chive Rolls
These light pleasant-tasting rolls complement almost any entree. With the chive filling swirled through the golden bread, they're attractive enough for special occasions.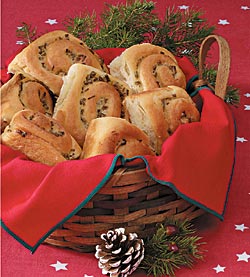 Yield: 15 rolls.
1 package (1/4 ounce) active dry yeast
1/4 cup warm water (110 to 115 F)
1 cup milk
1/3 cup vegetable oil
1/4 cup mashed potatoes (prepared without milk and butter)
1 egg
3 tablespoons sugar
1-1/2 teaspoons salt
3-1/2 cups all-purpose flour
Chive Filling:
1 cup (8 ounces) sour cream
1 cup minced fresh or frozen chives
1 egg yolk

Butter or margarine, melted
In a bowl, dissolve yeast in water. In a saucepan, heat milk, oil and mashed potatoes to 110 -115 F. Transfer to a mixing bowl; add yeast mixture, egg, sugar and salt. Add enough flour to make a soft dough. Turn onto a floured surface; knead until smooth and elastic, about 6-8 minutes. Place in a greased bowl; turn once to grease top. Cover and let rise in a warm place until doubled, about 1 hour.
Turn dough onto a floured surface. Roll into a 15-in. x 10-in. rectangle. In a bowl, combine sour cream, chives and egg yolk. Spread over dough to within 1/2 in. of edges. Roll up jelly-roll style, starting with a long side; pinch seam to seal. Cut into 1-in. slices. Place cut side down in a quarter sheet baking pan (13" x 9" x 2"). Cover and let rise until doubled, about 1 hour.
Bake at 350 F for 30-35 minutes or until golden brown. Brush with butter. Cool on a wire rack. Refrigerate leftovers.
Source: Ann N., Ely, Minnesota in Taste of Home Magazine
Subscribe to Taste of Home or send a gift subscription