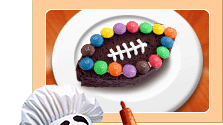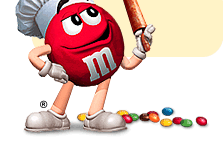 M&M's - pick from 21 team colors!
Combine flour, sugar, cocoa and baking powder in a medium-size bowl; mix well. Add canola oil, water and egg whites; mix just until dry ingredients are moistened. Spoon and spread batter evenly into prepared pan.

Combine cream cheese, remaining sugar and vanilla in a small bowl; blend well. Drop small spoonfuls of cream cheese mixture over brownie batter; swirl gently with a knife to create a decorative pattern.

Bake until toothpick inserted in center comes out clean, about 20 minutes.

Put the brownies in the freezer for 15 minutes. Press out football shapes with a cookie cutter or cut the football shapes using a template (about 3 1/2" x 2").