Leg of Lamb with Apricot-Orange Stuffing
If you butterfly the leg of lamb yourself, hang on to the bones and cook them with the pot roast -- they'll boost the sauce's flavor. If your lamb is already butterflied, ask the butcher for a couple of lamb shank bones to add to the pot.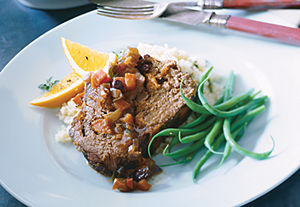 Yield: serves six to eight.
1 cup chopped dried apricots
1/2 cup dried currants or raisins
1-1/2 cups boiling water
4 lb. butterflied leg of lamb
3 cloves garlic, slivered
Salt and freshly ground black pepper
Grated zest of 1 orange
1 Tbs. chopped fresh thyme or 1 tsp. dried thyme
2 medium carrots, coarsely chopped
1 rib celery, coarsely chopped
1 large onion, coarsely chopped
Sprig of fresh thyme (optional)
Lamb bones (optional)
1 cup dry red wine
Juice of 1 orange
Heat the oven to 425 F. In a medium-sized bowl, cover the apricots and currants with the boiling water. Set them aside to plump for about 20 min. Pierce the lamb all over with a thin-bladed knife and insert the garlic slivers into the holes. Season both sides of the lamb with salt and pepper.
Drain the apricots and currants, reserving the liquid. Spread the fruit, orange zest, and chopped thyme over the interior of the meat, covering it thickly. Beginning with the narrow end, roll up the lamb jelly-roll style. Tie the roll with butcher's twine at 2-inch intervals. Save any filling that spills out of the lamb and add it to the roasting pan.
Set the lamb and any stray filling in a large casserole or roasting pan. Add the carrots, celery, onion, thyme sprig, lamb bones, reserved fruit-soaking liquid, red wine, and orange juice to the pan. Cover the roasting pan tightly with a lid or aluminum foil and cook for 20 min. Reduce the heat to 350 F. Cook the lamb until it's easily pierced with a fork and its juices run clear, about another 3 hours and 40 min.
Transfer the lamb to a platter or cutting board and cover it loosely with foil. Degrease the pan juices and pour them into a small saucepan. Boil the juices, skimming off any grease or scum that rises to the surface, until the liquid is reduced by half, about 15 min. Slice the lamb and serve it with the sauce.
Source: Beth Dooley and Lucia Watson for Fine Cooking Magazine - subscribe now!
Next: more Easter Recipes & Ideas