Goat Cheese Cake with Mixed Berries
Yield: 6 to 8 servings
Goat cheese gives a twist to traditional cheesecake and adds a savory element to this not-too-sweet dessert.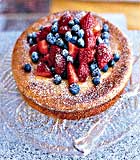 11 ounces mild fresh goat cheese, softened
3/4 cup granulated sugar
1 1/2 teaspoons fresh lemon juice
1 teaspoon minced lemon zest
1 teaspoon pure vanilla extract
6 large eggs, separated
3 tablespoons all-purpose flour
3 cups mixed fresh berries, such as blueberries, raspberries and quartered strawberries (see note)
Confectioners or powdered sugar , for dusting
Preheat the oven to 350 F. Butter a 9-inch round cake pan and dust with granulated sugar, pouring off the excess.
In a medium bowl, combine the goat cheese with the granulated sugar, lemon juice, lemon zest and vanilla and beat at medium speed until smooth. Beat in the egg yolks, 2 at a time, incorporating them completely before adding the next batch. Beat in the flour at low speed.
In another bowl, using clean beaters, beat the egg whites until firm but not dry. Beat one-third of the whites into the goat cheese mixture, then gently fold in the remaining whites. Spoon the batter into the prepared pan and bake for about 40 minutes, or until a skewer inserted in the center of the cake comes out clean. Transfer to a wire rack to cool completely.
Invert the cake onto a large plate. Arrange the berries on top and sift confectioners' sugar over all. Cut the cake into wedges and serve.
Make ahead: The cake can be wrapped well and stored at room temperature for 1 day.
Notes: To make a fruit sauce for the cake, lightly crush the raspberries and blueberries with 1 tablespoon of sugar and set aside for 10 minutes. Garnish the cake with additional whole berries.
Source: Emily Luchetti, the executive pastry chef at San Francisco's Farallon