West Virginia Jam Cake
This makes a magnificent cake-something to be proud to take to a reunion.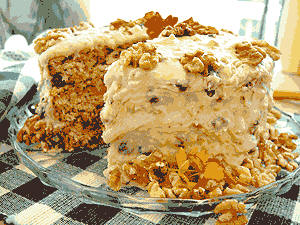 Yield: one 9" cake
2 cups sugar
1 cup shortening
3 eggs
1 cup buttermilk
1 cup blueberry jam
3 cups sifted flour
1 teaspoon soda
1 cup chopped black walnuts
1 cup raisins
1 large apple, grated
1/2 cup chopped dates (optional)
1 cup ground coconut
Cream sugar and shortening; add eggs and beat well. Combine buttermilk and jam alternately with sifted flour and soda; beat well. Add nuts, fruits, and coconut; stir until well distributed through batter. Bake in 3 (9-inch) greased cake pans at 350 F for 30-40 minutes or until done.
Filling:
2 cups sugar
2 tablespoons flour
1/2 cup sweet milk
1/2 cup butter or margarine
1 cup chopped nuts
1 cup chopped raisins
1 cup grated apples
1 cup grated coconut
Maraschino cherries (optional)
Mix sugar and flour together in saucepan; add milk and butter and cook about 2 minutes, stirring occasionally. Remove from heat and beat till thickened; add nuts, fruit, and coconut. Spread between layers and on top and sides of cake. Decorate with maraschino cherries, if desired.
Note: If black walnuts are not available, use pecans or other nuts and add 1/2 teaspoon black walnut flavoring.
Source: Keaton Mills Family in Best of the Best from West Virginia Cookbook
Selected Recipes from West Virginia's Favorite Cookbooks