Tips for Baking Cheesecakes
With relatively few ingredients, turning out a lovely cheesecake doesn't take much time or trouble. But until you've made a few, producing a perfectly formed example can pose a challenge.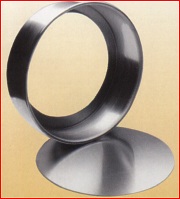 If you bake cheesecakes often, you'll benefit from using a professional cheesecake pan.
Mix for the time and speed given in a recipe. Overbeating, including mixing at too high a speed, incorporates too much air, which can make a cheesecake collapse.
Many recipes have you add moisture during baking to help keep a cheesecake from cracking. To do this, place a shallow pan of hot water on the bottom oven rack during baking.
Recipe directions may also warn you to not "peek" at a cheesecake until it nears the end of baking. Cheesecakes can crack from a sudden shock of cold air.
Cheesecakes are baked at lower temperatures than regular cakes to keep them from shrinking.
How can you tell if cheesecake is done? Either touch the top lightly or gently shake the pan. The center may be just firm to your touch or jiggle slightly, but it will set during chilling.
Poking the tip of a knife in the cheesecake to test doneness isn't advised because the hole could cause it to crack.
Here's what to do after the cheesecake is baked:
Let the cheesecake cool at room temperature for 30 minutes or as directed in the recipe before you put it in the fridge.
Refrigerate it uncovered for 2 to 3 hours or until chilled before you serve it. If you cover the warm cheesecake right away, moisture may condense and drip onto the cheesecake top.
After chilling, cover the cheesecake so that it doesn't dry out or pick up odors from other foods, and keep it in the fridge.
Run a metal spatula along the side to loosen it from the pan; do this after baking and after refrigerating. Otherwise, the cheesecake could pull away from the crust as it cools.
To cut, first dip the knife into water, and clean it off after every cut. Or use a piece of dental floss! Holding a length of dental floss taut between your hands, pull the floss down through the cheesecake, making a clean cut.
Source: Betty Crocker, TM of General Mills, Inc.