Almond-Crumb Scones
Like scones? Then you'll love these almond-crumb delights! They bake with a sweet, buttery almond streusel topping.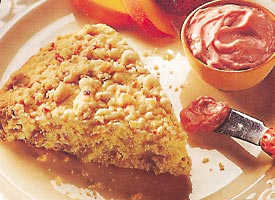 Yield: 8 scones
Almond Streusel:
2 tablespoons butter or margarine (firm)
3 tablespoons Gold Medal® all-purpose flour
2 tablespoons sugar
2 tablespoons finely chopped almonds, toasted
Dough:
1/2 cup butter or margarine (firm)
2 cups Gold Medal® all-purpose flour
1/4 cup sugar
2 1/2 teaspoons baking powder
1/4 teaspoon salt
1/2 cup chopped almonds, toasted
1 egg
1/2 cup half-and-half
Heat oven to 400 F.
Make Almond Streusel:
Cut butter into remaining ingredients until crumbly. Set aside.
Make Dough:
Cut butter into flour, sugar, baking powder and salt in large bowl, using pastry blender or crisscrossing 2 knives, until mixture looks like fine crumbs. Stir in almonds. Stir in egg and just enough half-and-half so dough leaves side of bowl and forms a ball.
Turn dough onto lightly floured surface; gently roll in flour to coat. Knead lightly 10 times. Pat or roll into 9-inch circle on ungreased cookie sheet. Sprinkle with streusel; press lightly into dough. Cut into 8 wedges, but do not separate.
Bake about 15 minutes or until golden brown. Immediately remove from cookie sheet; carefully separate wedges. Serve warm.
Success Hint: Count to 10! Overkneading the dough will make your scones tough.
Tip: To toast almonds or other nuts, heat oven to 350 F and bake in an ungreased baking pan about 10 minutes, stirring occasionally, until golden brown.
Source: Gold Medal Flour, a Reg. TM of General Mills, Inc.
Next: more recipes using almonds