Harvest Pound Cake
Fresh apples, chopped nuts and a divine caramel sauce make a cake without equal!
Yield: 16 servings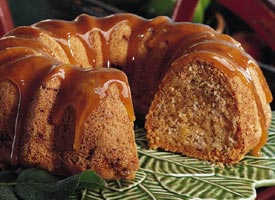 2 cups sugar
1 1/2 cups vegetable oil
2 teaspoons vanilla
3 eggs
3 cups Gold Medal all-purpose flour
1 teaspoon salt
1 teaspoon baking soda
2 medium apples, peeled and finely chopped (2 cups)
1 cup chopped nuts

Caramel Glaze:
1/2 cup butter or margarine
1/2 cup packed brown sugar
2 teaspoons milk
Heat oven to 350 F. Grease and flour 12-cup bundt cake pan.
Beat sugar, oil, vanilla and eggs in large bowl with electric mixer on medium speed until light and fluffy. Stir in flour, salt and baking soda until smooth. Stir in apples and nuts. Pour into pan.
Bake 1 hour to 1 hour 20 minutes or until toothpick inserted in center comes out clean. Cool 20 minutes. Remove from pan to wire rack. Spoon Caramel Glaze over warm cake.
Caramel Glaze
Heat all ingredients to boiling in 2-quart saucepan, stirring occasionally. Boil 2 minutes, stirring constantly; remove from heat.
Tips:
- Special Touch: Turn this yummy cake into decadence extraordinaire by serving it with a dollop of rich whipped cream and a scoop of butter pecan ice cream!
- Simplify: A store-bought caramel topping can be used instead of the homemade glaze.
Source: Gold Medal Flour, a Reg. TM of General Mills, Inc.