Cobweb Cookies - Halloween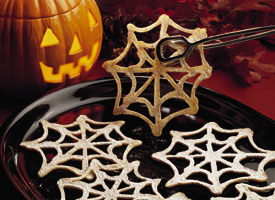 It's frightening how simple it is to create these creepy Halloween cookies right on your stove top!
Yield: 2 dozen 4- to 5-inch cookies
3/4 cup Gold Medal all-purpose flour or unbleached flour
1/2 cup granulated sugar
1/4 cup vegetable oil
1/4 cup milk
1/2 teaspoon vanilla
2 eggs
Powdered sugar
Beat all ingredients except powdered sugar in medium bowl with electric mixer on medium speed until smooth. Pour batter into plastic squeeze bottle with narrow opening. Heat 8-inch skillet over medium heat until hot; grease lightly.
Working quickly, squeeze batter to form 4 straight, thin lines that intersect at a common center point to form a star shape. To form cobweb, squeeze thin streams of batter to connect lines.
Cook 30 to 60 seconds or until bottom is golden brown; carefully turn. Cook until golden brown; remove from skillet. Cool on wire rack.
Heat oven to 325 F. Bake cookies on ungreased cookie sheet 5 to 7 minutes or until almost crisp (cookies will become crisp as they cool). Remove from cookie sheet; cool. Sprinkle with powdered sugar. Store cookies in container with loose-fitting cover.
Tips:
If you don't have a squeeze bottle at home to use, you can pick up a plastic picnic-style bottle for ketchup at your grocery or discount store.
Planning a party?
Display your cookies and assorted candies on a tray on a Halloween-decorated table. Draw a large spider to stand guard over your treats!
Source: Gold Medal Flour, a Reg. TM of General Mills, Inc.
Next: more Halloween Recipes & Halloween Cake Decorating Ideas