Mini Pumpkin Spice Cakes with Orange Glaze
Yield: 8 mini pumpkin spice cakes
Cake:
1 box (18.25-ounce) pumpkin spice cake mix, Betty Crocker SuperMoist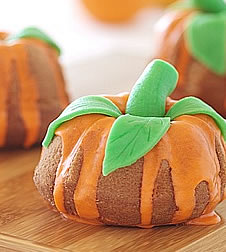 1 1/4 cups water
1/3 cup vegetable oil
3 eggs
Orange Glaze:
2/3 cup heavy cream
1 bag (12-ounce) premier white morsels, Nestlé
Red and yellow food coloring
Marzipan Stems and Leaves:
1 package (7-ounce) marzipan - recipe
Green food coloring
Special Equipment:
Disposable latex gloves
leaf-shaped cookie cutter
Cake Preparation:
Preheat oven to 350 degrees. Oil and flour 8 mini bundt pans. Combine cake mix, water, oil, and eggs in large bowl. Beat for 2 minutes, or until well blended. Divide batter equally among prepared pans. Bake for 20 minutes, or until toothpick inserted near center of cakes comes out clean. Cool cakes in pans on cooling racks for 15 minutes. Invert cakes onto cooling rack and cool completely. Set cooling rack atop baking sheet.
For the Orange Glaze:
Heat cream in small saucepan over medium heat until bubbles appear; remove from heat. Add white morsels and stir until melted and smooth. Stir in food colorings, 1 drop at a time, until desired color is achieved. Drizzle glaze over cakes. Refrigerate cakes for 10 minutes, or until glaze is firm. Cover and reserve any remaining glaze.
For the Marzipan Stems and Leaves:
Place marzipan in medium bowl. Using latex gloves, knead food coloring, 1 drop at a time, into marzipan until desired color is achieved. Divide marzipan into 2 equal pieces. Roll 1 marzipan piece into 12-inch-long log. Cut log crosswise into 8 equal pieces; set aside to use as stems. Flatten remaining marzipan piece, then place between 2 sheets of plastic wrap. Using rolling pin, roll out marzipan to 1/4-inch thickness. Using leaf-shaped cookie cutter or small sharp knife, cut out 24 leaves. Decorate cakes with marzipan stems and leaves. Rewarm reserved glaze. Serve cakes, passing glaze alongside.
Source: Semi-Homemade Desserts by Sandra Lee
more recipes from this book:
- Pecan Caramel Cheesecake
- Frozen English Toffee Cake
- Cherry Lollipops
Can't buy the cake mix. Bake it from scratch: Pumpkin Spice Cake Recipe