Buttermilk Bread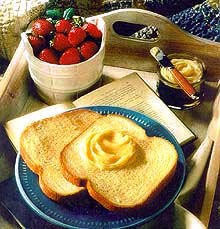 Yield 2 Loaves, 24 slices
6 to 6-1/2 cups all-purpose flour
3 tablespoons sugar
2 envelopes (1/2 ounce or 4 1/2 tsp) Fleischmann's RapidRise Yeast
2-1/2 teaspoons salt
1/4 teaspoon baking soda
1 cup buttermilk
1 cup water
1/3 cup butter or margarine, cut into pieces
In large bowl, combine 3 cups flour, sugar, undissolved yeast, salt, and baking soda. Heat buttermilk, water, and butter until very warm (120 to 130 F); butter does not need to melt. (Mixture will appear curdled.) Stir into dry ingredients. Stir in enough remaining flour to make soft dough. Knead on lightly floured surface until smooth and elastic, about 6 to 8 minutes. Cover; let rest on floured surface 10 minutes.
Divide dough in half. Roll each half to 12 x 7-inch rectangle. Beginning at short end of each, roll up tightly as for jelly roll. Pinch seams and ends to seal. Place, seam sides down, in 2 greased 8-1/2 x 4-1/2-inch loaf pans. Cover; let rise in warm, draft-free place until doubled in size, about 30 to 45 minutes.
Bake at 375 F for 30 to 35 minutes or until done. Remove from pans; let cool on wire racks.
Nutrition Information Per serving: one slice (1/24 of recipe):
Calories: 154, Total Fat: 3g, Saturated Fat: 2g, Cholesterol: 7mg, Sodium: 293mg, Carbohydrates: 27g, Dietary Fiber: 1g, Protein: 4g
Source: Fleischmann's Yeast, a division of Burns Philp Food, Inc.