Sweet Potato Pie with Cornmeal Pastry
Enjoy a classic pie made southern style with cornmeal pastry and topped with lots of whipped cream!
Yield: 1 pie, 8 servings
Cornmeal Pastry:
2/3 cup Gold Medal all-purpose flour
1/3 cup cornmeal
1/4 teaspoon salt
1/3 cup plus 1 tablespoon shortening
2 to 3 tablespoons cold water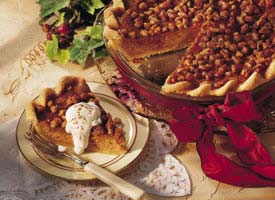 Filling:
2 eggs
2 cups mashed cooked sweet potatoes
3/4 cup sugar
1 2/3 cups evaporated milk
1 teaspoon ground cinnamon
1/2 teaspoon salt
1/2 teaspoon ground ginger
1/4 teaspoon ground cloves
Cinnamon-Pecan Streusel:
1/3 cup packed brown sugar
1/3 cup chopped pecans
1 tablespoon butter or margarine, softened
1/2 teaspoon ground cinnamon
Sweetened whipped cream, if desired
Cornmeal Pastry
Mix flour, cornmeal and salt in medium bowl. Cut in shortening, using pastry blender or crisscrossing 2 knives, until particles are size of small peas. Sprinkle with water, 1 tablespoon at a time, tossing with fork until all flour is moistened and pastry almost cleans side of bowl (1 to 2 teaspoons water can be added if necessary). Gather pastry into a ball. Shape into flattened round on lightly floured surface. Roll pastry, using floured rolling pin, into circle 2 inches larger than upside-down deep-dish pie plate, 9x1 1/2 inches. Fold pastry into fourths; place in pie plate. Unfold and ease into plate, pressing firmly against bottom and side. Trim and flute pastry edge.
Heat oven to 425 F.
Beat eggs slightly in medium bowl. Stir in remaining ingredients except Streusel Topping and whipped cream. Pour into pastry-lined pie plate. Bake 15 minutes.
Make Streusel Topping by mixing all 4 ingredients
Reduce oven temperature to 350 F. Bake 35 minutes longer. Sprinkle Streusel Topping over pie. Bake about 10 minutes longer or until knife inserted in center comes out clean. Cool completely on wire rack, about 2 hours. Serve with whipped cream.
Source: Gold Medal Flour, a Reg. TM of General Mills, Inc.
Next:
- Thanksgiving Recipes & Ideas
- Pie Recipes
- Pie Books