Think you're too busy to make homemade gifts this year? Or maybe your recipient is too busy to bake?
"Cookies in a Jar" mixes are a great idea for a thoughtful homemade gift that will be appreciated by everyone. These are standard 1-quart mason jars filled with the ingredients to a cookie recipe placed in distinct layers that make a pretty horizontal stripe pattern. Sometimes these are referred to as "sand art" cookies because the jars resemble the handicrafts of that name.
To bake the cookies, your recipient need only follow the simple instructions printed on a card attached to the jar. Usually this involves mixing the contents of the jar with butter, an egg, and vanilla extract and then baking the cookies in the oven. Pretty, easy, and delicious—and hand made by you just for them! What could be better?
If you'd like to decorate your gift more creatively or stylishly, make a whole gift basket out of it that looks like it was done by a professional gift basket maker. Bake a batch of the cookies and put them in a cellophane bag tied with a ribbon. Then, using the same recipe as the cookies you made, create a "gift in a jar" by layering the ingredients in a mason jar. Tie that with a ribbon with the directions for making the cookies attached. Print up the original recipe on a card for them to keep, and round out the gift basket with a large mixing bowl, a wooden spoon, and any other item needed to make the cookies such as a cookie cutter or cookie press. Top it off with a cookie cookbook (Christmas Cookies Are for Giving would be perfect!) Place all this in a large basket and wrap the basket with cellophane. Tie a fancy bow around the basket, and your gift is ready to give.
While these gifts are very simple to make, there are a few rules to follow to make them work properly. Here are some tips on how to make your gifts in a jar tasty and beautiful.
Start with the freshest ingredients. Your gift in a jar will have a shelf life of 3 months in most cases. If you use fresh ingredients, they will keep that long and still taste delicious.
To keep each layer separate and distinct, layer the ingredients properly to prevent the different layers sifting down into each other. Unless otherwise directed by your recipe, place the ingredients with the finest grains at the bottom, then add ingredients with larger grains, and finally top them off with any large chunks. Pack down each layer tightly before adding the next layer. Also, your gift will look prettier if you layer light and dark-colored ingredients alternately. Usually, your layers will go something like this depending on the ingredients:
Bottom: flour, cocoa powder
Middle: white sugar
Middle: rolled oats, ground nuts
Middle: brown sugar (its more sticky consistency works well as a base for large pieces)
Top: chopped nuts, chocolate chips, raisins, candy pieces
If powdery substances such as cocoa powder or flour stick to the inside of the jar, wipe it down before adding the next layer.
A small meat mallet or the end of a French rolling pin (without handles) work well as tools to tamp down ingredients in the jar.
If layering the ingredients seems like too much of a hassle, just put all the ingredients in the jar and give it a good shake!
Dress up the jar. Take some pretty fabric and cut out a 9" circle with pinking shears. Place the circle on the lid of the jar and secure it around the neck of the jar using raffia or a ribbon. Print out the instructions on fancy paper using a decorative font and tie the instructions to the jar.
On the printed card, add the shelf life of the ingredients (usually about 3 months), as well as instructions to keep the jar in a cool, dark place. Your recipient will be assured of tasty cookies even if he or she can't get around to making them right away.
You can turn your favorite recipes into "Gifts in a Jar" as long as the total of dry ingredients is 1 quart (4 cups) or less. You may have to cut your current recipe by half or one third to get the correct amount of dry ingredients but it will work. Remember to adjust the amounts of wet ingredients needed when writing out your directions to place on the jar. Or, rather than cutting your recipe you can use the larger 2-quart mason jars and if there is any space left at the top of the jar, pack it tightly with tissue paper or add a few extra nuts or chocolate chips—this adds pizzazz!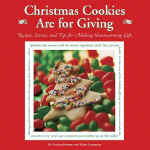 Source: Christmas Cookies Are for Giving by Kristin Johnson and Mimi Cummins. The book features 48 other great Christmas cookie recipes, plus baking tips, tips on packaging cookie gifts, tips on shipping cookies, and tips on making Gifts in a Jar.
buy this book in the US - UK - DE
more recipes from this book:
- Cranberry Decadent Cookies
- Apricot Foldovers
- Soft Sugar Cookies
Next:
- Christmas Cookie Recipes & Cake Ideas
- Gift Jar Recipes
- Pie Recipes
Featured Recipes:
Chocolate - the food of the Gods
Step-by-step cake decorating
Featured Magazine:
Dessert Professional