Gingerbread Birdhouse Ornaments
Darling, fragrant little ornaments you can hang from your tree or give as holiday gifts, assuming you can resist eating them first!
Yield: 15 ornaments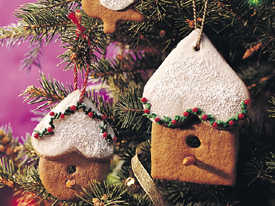 1 cup packed brown sugar
1/3 cup shortening
1 1/2 cups full-flavor molasses
2/3 cup water
6 cups Gold Medal all-purpose flour
2 teaspoons baking soda
2 teaspoons ground ginger
1 teaspoon salt
1 teaspoon ground allspice
1 teaspoon ground cloves
1 teaspoon ground cinnamon

Easy Creamy Frosting:
4 cups powdered sugar
1 teaspoon vanilla
4 to 5 tablespoons half-and-half
Food colors, if desired

Powdered sugar
Drinking straws
8 pretzel sticks, cut into 1-inch lengths
Betty Crocker green decorating icing - recipe
Betty Crocker Holiday Décor holly berry sprinkles
Gold string or ribbon
Stir together brown sugar, shortening, molasses and cold water in large bowl. Stir in flour, baking soda, ginger, salt, allspice, cloves and cinnamon. Cover and refrigerate at least 2 hours.
Heat oven to 350 F. Lightly grease cookie sheet.
Roll dough 1/2 inch thick on lightly floured surface. Cut into squares or circles for bases of birdhouses and into hearts for roofs, using knife or floured cookie cutters, each about 2 1/2 inches in diameter. Place heart shape upside down on top of square or circle, just overlapping. Make hole in center of birdhouse base for door and at top of roof for hanging, using end of drinking straw. Place about 1 1/2 inches apart on cookie sheet.
Bake about 15 minutes or until no indentation remains when touched. While warm, insert pretzel stick just below door hole for perch. Remove from cookie sheet. Cool completely.
Make Easy Creamy Frosting: stir together powdered sugar, vanilla and half-and-half until smooth and spreadable. Tint with food color. Frost tops of cookies (roofs) and sprinkle with powdered sugar. Decorate with decorating icing and sprinkles. Thread pieces of gold string through holes in tops of birdhouses; tie in knots to make hangers.
Source: Betty Crocker, TM of General Mills, Inc.
Special Touch:
This tree is for the birds! For a fun decorating theme, hang Gingerbread Birdhouse Ornaments on your tree and add tiny silk birds available at most arts and crafts stores. Weave in some colorful ribbon, and you'll have the most unique tree around.
Next:
- Christmas Cookie Recipes & Cake Ideas
- Gift Jar Recipes
- Pie Recipes