Cinnamon-Apple Wreath
Adorn your door with this festive holiday wreath and welcome your guest with apples, cinnamon spice and everything nice.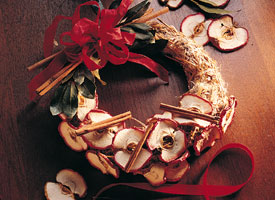 Yield: 1 wreath
6 small apples, 2 1/2 inches in diameter
Lemon juice or lemon-lime soda pop
Wire racks
Spray varnish, if desired
6 cinnamon sticks, 10 inches long
Straw wreath, 10 inches in diameter
8 (3 1/2-inch) cinnamon sticks
2 yards 3/4-inch ribbon
Glue gun and glue sticks
Silk leaves
Heat oven to 200 F. Cut apples lengthwise from stem end through core into 1/4-inch slices. Dip apples into lemon juice to prevent browning; place on wire racks. Carefully place wire racks on oven rack. Bake 4 hours.
Remove wire racks from oven and place on heatproof surface. Let apples stand about 2 hours or until completely dry. Place dried apples on waxed paper. Coat each side with 2 light coats of spray varnish, following manufacturer's directions.
Tie 10-inch cinnamon sticks together. Attach to front of wreath with 6 inches of the ribbon. Glue dried apple slices and 3 1/2-inch cinnamon sticks to front and side of wreath, using glue gun. Attach leaves to ribbon on 10-inch cinnamon sticks. Make a bow with the remaining ribbon, and attach to wreath. Attach wire hanger if desired.
Source: Betty Crocker, TM of General Mills, Inc.
Tips:
- Make the dried apples ahead of time. When it's time to make the wreath it will all come together in a snap.
- Pick up Rome apples for this project. With their pretty red skin and white flesh they are particularly nice in this wreath, though other types of apples are also attractive.
Next:
- Christmas Cookie Recipes & Cake Ideas
- Gift Jar Recipes
- Pie Recipes