Leckerli
Yield: about 5 dozen cookies
Herme learned to make these chewy, nutty cookies flavored with spices and candied citrus rind from his father, an Alsatian baker, who picked up the recipe in Switzerland.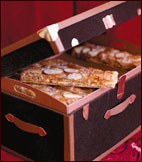 3/4 cup acacia honey
1/2 cup granulated sugar
1/2 teaspoon finely grated lemon zest
1/4 teaspoon cinnamon
1/4 teaspoon freshly ground black pepper
Pinch of freshly grated nutmeg
Pinch of ground ginger
Pinch of ground cloves
Pinch of freshly ground white pepper
Scant 2/3 cup finely diced candied lemon and orange rind
1 1/4 cups plus 2 tablespoons sliced almonds (4 1/2 ounces)
1/4 cup kirsch (unsweetened cherry liquor)
2 cups plus 2 tablespoons all-purpose flour, plus more for dusting
1/2 teaspoon baking soda
2/3 cup confectioners' sugar (powdered sugar)
1 1/2 tablespoons water
In a medium saucepan, combine the honey with the granulated sugar, lemon zest, cinnamon, black pepper, nutmeg, ginger, cloves and white pepper. Cook over low heat, stirring occasionally, until the honey and sugar are melted, about 3 minutes. Remove the pan from the heat and add the candied citrus rind, 1 cup plus 2 tablespoons of the almonds and 3 tablespoons plus 1 teaspoon of the kirsch. Sift the 2 cups plus 2 tablespoons of flour and the baking soda over the mixture and stir to incorporate. Line a baking sheet with plastic wrap. Scrape the dough onto the plastic and flatten into a disk. Wrap and refrigerate until firm, about 2 hours.
Liberally flour a work surface. Roll out the dough to a 12-inch square about 3/8 inch thick. Line a large cookie sheet with parchment paper and slide the dough onto it. Prick all over with a fork. Scatter the remaining 1/4 cup of almonds on top. Cover with plastic wrap and refrigerate overnight.
Preheat the oven to 400 F. In a small bowl, mix the confectioners' sugar with the water and the remaining 2 teaspoons of kirsch. Bake the cookie square for 14 minutes, or until golden. Immediately brush the glaze on top. Slide the parchment onto a rack and let the cookie cool completely. On a work surface, using a large, sharp knife, trim the edges of the square, then cut it into four 3-inch-wide strips. Cut each strip into 3/4-inch bars.
Make ahead!
The cookies can be stored in an airtight container at room temperature for up to 1 week or frozen for up to 2 months.
Source: Pierre Hermé in Food & Wine - send a Food & Wine gift subscription
Next:
- Christmas Cookie Recipes & Cake Ideas
- Gift Jar Recipes
- Pie Recipes