Cinnamon Football Cookies
Treat your favorite quarterback to these easy-to-make sporty cookies. Sit back and listen to the cheers!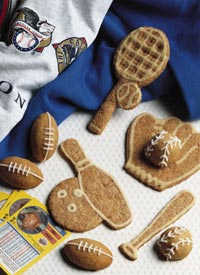 Yield: about 2 dozen cookies
1/2 cup packed brown sugar
1/2 cup butter or margarine, softened
1 teaspoon vanilla
1 1/2 cups Gold Medal all-purpose flour
1/2 teaspoon ground cinnamon
1/8 teaspoon salt
24 whole blanched almonds
Easy Decorating Glaze:
1/2 cup powdered sugar
1 1/2 to 3 teaspoons water
Heat oven to 350 F.
Mix brown sugar, butter and vanilla in large bowl. Work in flour, cinnamon and salt until dough holds together.
Shape dough by scant tablespoonfuls around almonds to form football shapes. Place about 1 inch apart on ungreased cookie sheet.
Bake 12 to 14 minutes or until set but not brown. Remove from cookie sheet. Cool completely.
Mix powdered sugar and just enough water to make paste that can be piped from decorating bag. Place in decorating bag filled with writing tip #3. Pipe football laces on cookies.
What better treat to have at a Super Bowl party? Serve these cookies in a football helmet lined with plastic wrap and cloth napkins.
Source: Gold Medal Flour, a Reg. TM of General Mills, Inc.
Similar item: Football T-Shirt Cake - Football Cake Decorations