Heart Cookies - Stained Glass Cutouts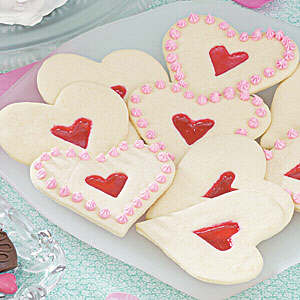 Yield: about 1-1/2 dozen.
Dixie T. from Goreville, Illinois suggests these delicious and festive-looking cookies with a "stained glass" heart in the center.
1/2 cup butter, softened
3/4 cup sugar
2 eggs
1 teaspoon vanilla extract
2-1/3 cups all-purpose flour
1 teaspoon baking powder
1/3 cup crushed clear red hard candy

Optional Decoration:
1 cup vanilla frosting (Royal Icing, Cake Decorators Icing or similar)
4 drops red food coloring
In a mixing bowl, cream butter and sugar. Add eggs, one at a time, beating well after each addition. Beat in vanilla. Combine flour and baking powder; gradually add to creamed mixture. Cover and refrigerate for 3 hours or until easy to handle.
On a lightly floured surface, roll out dough to 1/8-in. thickness. Cut with a 4-in. heart-shaped cookie cutter dipped in flour. Cut out centers with a 1-1/4-in. heart-shaped cookie cutter; set aside to reroll. Place cookies 1 in. apart on lightly greased foil-lined baking sheets. Fill centers with crushed candy.
Bake at 375 for 7-9 minutes or until candy is melted and edges of cookies begin to brown. Cool completely on baking sheets. Carefully peel cookies off foil.
If desired, combine frosting and food coloring; pipe abound edges.
Source: Taste of Home - subscribe to Taste of Home Magazine
More Valentine's Cakes & Recipes