Bread From A Bag Loaf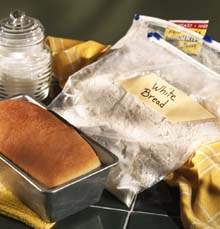 Yield: 1 loaf, 12 servings
2 1/2 to 3 cups all-purpose flour
1 envelope (1/4 ounce or 2 1/4 tsp) Fleischmann's RapidRise Yeast
3 tablespoons sugar
3 tablespoons nonfat dry milk powder
1 teaspoon salt
1 cup water
3 tablespoons vegetable oil
Combine 1 cup flour, undissolved yeast, sugar, dry milk, and salt in a 1-gallon, heavy duty freezer bag with zipper-lock. Squeeze upper part of bag to force out air. Shake and work bag with fingers to blend ingredients. Heat water and vegetable oil until very warm (120 to 130 F); add to flour mixture. Reseal bag; mix thoroughly by working bag with fingers. Gradually add enough remaining flour to make a stiff batter that pulls away from the bag. Remove dough from bag; knead on lightly floured surface until smooth and elastic, about 8 to 10 minutes. Cover; let rest 10 minutes.
Roll dough to 12 x 7-inch rectangle. Beginning from short end, roll up tightly as for jelly roll. Pinch seam and ends to seal. Place in greased 8 1/2 x 4 1/2-inch loaf pan. Cover; let rise in warm, draft-free place until doubled in size, about 1 hour.
Bake at 375 F for 30 to 35 minutes or until done. Remove from pan; cool on wire rack.
Nutrition Information Per Serving: Serving size: 2 ounces (1/12 of recipe)
Calories 150; Total fat 3.5 g; Saturated fat 0g; Cholesterol 0g; Sodium 200 mg; Carbohydrates 26 g; Dietary fiber < 1 g; Sugars 4 g; Protein 4 g
Source: Fleischmann's Yeast, a division of Burns Philp Food, Inc.