Texas Chili
Texas chili is typically VERY spicy and contains no beans or tomatoes. We've toned down the spiciness a bit in order to appeal to most people, but feel free to add more red pepper flakes if you really want to sweat!
Yield: 6 servings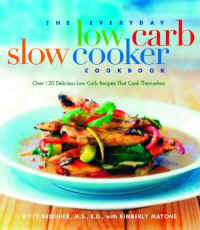 3 pounds chuck beef stew meat, fat trimmed
1 tablespoon minced garlic
1/4 cup chili powder
1 teaspoon red pepper flakes (add more if you want it spicier)
2 tablespoons quick-cooking tapioca
1 tablespoon oregano
1 teaspoon cumin
2 cubes beef bouillon
1 teaspoon black pepper
1 14.5-ounce can beef broth
1/2 medium onion, finely chopped
optional garnishes:
sour cream
lime wedges
Add all ingredients to the slow cooker crock and mix well. Cover and cook on low for 8 hours.
Stir chili well before serving, and offer with sour cream and a wedge of lime for a traditional Texas garnish.
Approximate nutritional content:
Calories: 487 protein: 61g net carbs: 5.5g fat: 23g cholesterol: 192mg sodium: 1,193mg
Cook's Tip:
To make authentic Texas chili, chuck beef must be used. If your grocer doesn't offer chuck stew meat, ask the butcher to cut up a chuck shoulder roast for you.
Source: The Everyday Low Carb Slow Cooker Cookbook by Kitty Broihier & Kimberly Mayone
Over 120 Delicious Low Carb Recipies that Cook Themselves
Buy The Everyday Low Carb Slow Cooker Cookbook in the US - DE - UK
More recipes from "The Everyday Low Carb Slow Cooker Cookbook":
- Ham and Cheese Strata
- Italian Sausage and Peppers
- Chicken, Tomato and White Bean Soup
More slow cooker recipes.