Honey Bunnies
Yield: 6 bunnies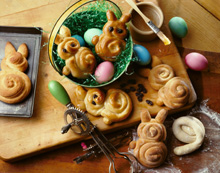 Dough
1 / 3 cup evaporated milk
1 / 4 cup water
1 / 4 cup honey
1 / 4 cup butter or margarine
1 large egg
1 / 2 teaspoon salt
2-1 / 3 cups bread flour
2 teaspoons (1/2 ounce or 4 1/2 tsp) Fleischmann's Bread Machine Yeast
Raisins for eyes
Honey Glaze
4 tablespoons honey
2 tablespoons butter or margarine
Add dough ingredients to bread machine pan in the order suggested by manufacturer. Select dough/manual cycle.
Or, combine ingredients, as usual, beat 2 minutes at medium speed of electric mixer and knead on lightly floured surface until smooth and elastic, about 4 to 6 minutes. Cover; let rest 10 minutes
When cycle is complete, remove dough from machine to a lightly floured surface. If necessary, knead in enough flour to make dough easy to handle. Divide dough into 6 equal pieces. Roll each to 20-inch rope. Divide each rope into 1 (12-inch), 1 (5-inch), and 3 (1-inch) strips. Coil 12-inch strip to make body; coil 5-inch strip to make head. Attach head to body; pinch to seal. Shape remaining 3 strips into ears and tail; attach to head and body. Place on greased baking sheet. Cover; let rise in warm, draft-free place until doubled in size, about 45 minutes.
Bake at 375 F for 12 to 15 minutes or until done. Remove from sheet to wire rack. Brush with Honey Glaze while warm. Insert raisins for eyes. If desired, brush again with Honey Glaze before serving.
Honey Glaze:
In a small saucepan, combine honey and butter. Cook over low heat until butter melts, stirring occasionally.
Nutrition Information Per Serving: Serving size: 1 bunny (4.5 ounces)
Calories 410; Total fat 14 g; Saturated fat 8g; Cholesterol 70 mg; Sodium 340 mg; Carbohydrates 63 g; Dietary fiber 1g; Sugars 24 g; Protein 9g
Source: Fleischmann's Yeast, a division of Burns Philp Food, Inc.