Half Batch Breakfast Rolls
Yield: 6 rolls
Dough
1- 3/4 to 2 cups all-purpose flour
1/4 cup sugar
1 envelope (1/4 ounce or 2 1/4 tsp) Fleischmann's RapidRise Yeast
1/2 teaspoon salt
3 tablespoons potato water
1 tablespoon milk
1/4 cup butter or margarine
1/4 cup cooked, mashed potato
1 large egg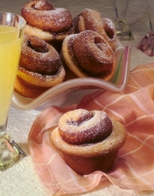 Cinnamon Cocoa Filling
1 tablespoon melted butter or margarine
2 tablespoons sugar
2 teaspoons unsweetened cocoa
1/4 teaspoon ground cinnamon
Powdered Sugar
Chocolate Glaze, optional
1 (1-ounce) square semi-sweet chocolate
1 tablespoon butter or margarine
In a large bowl, combine 3/4 cup flour, sugar, undissolved yeast, and salt. Heat water, milk, butter, and mashed potato until very warm (120 to 130 F). Gradually add to flour mixture. Beat 2 minutes at medium speed of electric mixer, scraping bowl occasionally. Add egg and 1/2 cup flour; beat 2 minutes at high speed. Stir in enough remaining flour to make a soft dough. Knead on lightly floured surface until smooth and elastic, about 8 to 10 minutes. Cover and let rest 10 minutes.
Prepare the Cinnamon Cocoa Filling:
Combine sugar, cocoa, and ground cinnamon. Stir to blend.
Using a Rolling Pin roll dough to a 9 x 6-inch rectangle; brush with 1 tablespoon melted butter. Sprinkle with Cinnamon Cocoa Filling. Beginning at short end, roll up tightly as for jelly roll. Pinch seam to seal. Using a dough cutter cut into 6 equal pieces. Place, cut sides up, into 6 (2-1/2-inch) greased muffin cups. Cover, let rise in warm, draft-free place until doubled in size, about 1 hour.
Bake at 375 F for 15 to 20 minutes or until done. Remove from cups; cool on wire racks. Lightly sift powdered sugar over tops or drizzle with Chocolate Glaze if desired.
Chocolate Glaze:
Melt 1 (1-ounce) square semi-sweet chocolate and 1 tablespoon butter or margarine. Stir until smooth.
Nutrition Information per serving 1 roll (3.41 ounces):
Calories 310, Total fat 11g, Saturated fat 6 g, Cholesterol 60 mg, Sodium 330 mg, Carbohydrates 47 g, Dietary fiber 2 g, Sugars 13 g, Protein 6 g
Source: Fleischmann's Yeast, a division of Burns Philp Food, Inc.