Gluten-Free White Bread
Yield: 1 (1-1/2 pound) loaf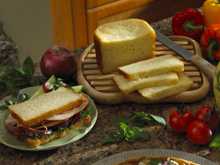 1 cup water
1/4 cup honey
1/4 cup corn oil
1 large egg
1 teaspoon cider vinegar
1 teaspoon salt
1-1/3 cups white rice flour
1/4 cup potato flour
1/4 cup tapioca flour
1/4 cup potato starch
1/3 cup nondairy milk
2 teaspoons xanthan gum
2- 1/2 teaspoons Fleischmann's Bread Machine Yeast
Bread Machine:
Add ingredients to bread machine pan in the order suggested by manufacturer. Select basic/white bread cycle, dark color setting.
Or ..... Combine ingredients, as usual, beat 2 minutes at medium speed of electric mixer and knead on lightly floured surface until smooth and elastic, about 4 to 6 minutes. Cover; let rest 10 minutes. Shape into desired loaf. Cover, let rise in warm, draft-free place until doubled in size and bake at 375 F until done.
Nutrition Information Per Serving 1 slice, 1/12 of recipe (2.5 ounces)
Calories 170, Total fat 5 g, Saturated fat 1 g, Cholesterol 20 mg, Sodium 210 mg, Carbohydrates 28 g, Dietary fiber < 1 g, Sugars 6 g, Protein 2 g
Source: Fleischmann's Yeast, a division of Burns Philp Food, Inc.