Whole Wheat Chocolate Chip Cookies
Nothing is more delicious than a warm, chewy chocolate chip cookie. Using whole wheat flour instead of all-purpose makes this a contender for the best-tasting cookie ever!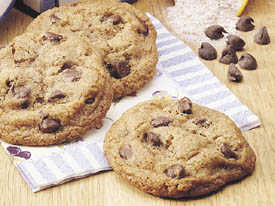 Yield: 3 dozen cookies
3/4 cup granulated sugar
3/4 cup packed brown sugar
1 cup butter or margarine, softened
1 teaspoon vanilla
1 egg
2 cups Gold Medal whole wheat flour
1 teaspoon baking soda
1/2 teaspoon salt
1 package (12 ounces) semisweet chocolate chips (2 cups)
Heat oven to 375 F.
Mix sugars, butter, vanilla and egg in large bowl. Stir in flour, baking soda and salt (dough will be stiff). Stir in chocolate chips. Feeling a little nutty? Go ahead and add 1 cup coarsely chopped nuts with the chocolate chips.
Drop dough by rounded tablespoonfuls about 2 inches apart onto ungreased cookie sheet.
Bake 8 to 10 minutes or until light brown (centers will be soft). Cool slightly; remove from cookie sheet. Cool on wire rack.
Did You Know?
The word cookie comes from the Dutch word for cake, "koekje". The first cookies were actually tiny cakes baked as a test to make sure that the oven temperature was right for baking a larger cake.
Source: Gold Medal Flour, a Reg. TM of General Mills, Inc.