Apple Kuchen
Fluffy Batter Bread Topped with Apple Slices and Cinnamon Mixture.
A Sweet Cake-like Treat Made Perfect When Served Warm with Ice Cream.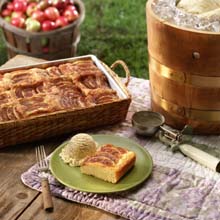 Yield: 12 servings, one (13 x 9-inch) Coffeecake
2-1/4 cups all-purpose flour
1/3 cup sugar
1 envelope (1/4 ounce or 2 1/4 tsp) Fleischmann's RapidRise Yeast
1 teaspoon salt
1/2 cup water
1/4 cup milk
1/3 cup butter or margarine
1 egg large
3 cups sliced fresh cooking apples
Cinnamon Topping
2/3 cup sugar
1-1/2 teaspoons ground cinnamon
2 tablespoons butter or margarine
Vanilla ice cream - step-by-step recipe
Cinnamon Topping:
In a small bowl, combine 2/3 cup sugar, 1-1/2 teaspoons ground cinnamon. Cut in 2 tablespoons butter or margarine with pastry blender until mixture resembles coarse crumbs.
In a large bowl, combine 3/4 cup flour, sugar, undissolved yeast, and salt. Heat water, milk, and butter until very warm (120 to 130 F). Gradually add to flour mixture. Beat 2 minutes at medium speed of electric mixer, scraping bowl occasionally. Add egg and 1 cup flour; beat 2 minutes at high speed. Stir in remaining flour to make a stiff batter. Turn into greased 13 x 9-inch pan. Arrange apple slices evenly over batter; sprinkle with Cinnamon Topping. Cover; let rise in warm, draft-free place until doubled in size, about 1 hour.
Bake at 375 F for 25 minutes or until done. Cool in pan on wire rack, or serve warm with vanilla ice cream.
Nutrition Information Per Serving (1/12 of recipe): Calories: 240, Total Fat: 8g, Saturated Fat: 4.5g, Cholesterol: 35mg, Sodium: 270mg, Carbohydrates: 39g, Dietary Fiber: 2g, Protein: 3g
Source: Fleischmann's Yeast, a division of Burns Philp Food, Inc.