Carrot Cake with Maple Cream Cheese Icing
A standard at health food restaurants across the country, carrot cake was ubiquitous in the seventies. Grated carrots made it a nutritious choice, or so the thinking went. This ultra-moist version is updated with a maple icing.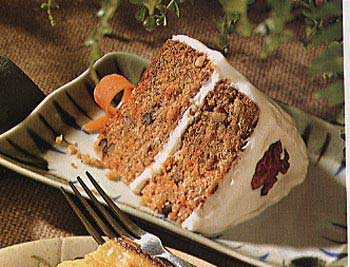 Yield: one 9" cake, 12 servings
Cake
2 cups all purpose flour
2 teaspoons baking soda
1 teaspoon salt
1 teaspoon ground cinnamon
2 cups sugar
1 1/4 cups canola oil
4 large eggs
3 cups grated peeled carrots
1 1/4 cups coarsely chopped walnuts
2 tablespoons minced peeled ginger
Icing
10 ounces cream cheese, room temperature
5 tablespoons unsalted butter, room temperature
2 1/2 cups powdered sugar
1/4 cup pure maple syrup
12 walnut halves (for garnish)
For cake:
Preheat oven to 350 F. Butter one 9 x 3 inch cake pan. Line bottom of pan with waxed paper. Butter and flour paper; tap out excess flour. Whisk flour, baking soda, salt and cinnamon in medium bowl to blend. Whisk sugar and oil in large bowl until well blended. Whisk in eggs 1 at a time. Add flour mixture and stir until blended. Stir in carrots, walnuts and ginger. Fill batter into pan.
Bake cake until tester inserted into center comes out clean, about 40 minutes. Cool cake in pan 15 minutes. Turn out onto racks. Peel off waxed paper; cool cake completely.
For icing:
Using electric mixer, beat cream cheese and butter in large bowl until light and fluffy. Add powdered sugar and beat at low speed until well blended. Beat in maple syrup. Chill until just firm enough to spread, 30 minutes.
Cut cake into 2 layers. Place 1 cake layer on platter. Spread with 3/4 cup icing. Top with second layer. Spread remaining icing over entire cake. Arrange walnut halves around top edge or decorate with your favorite cake decorating theme.
Can be made 1 day ahead. Cover with cake dome; chill. Let stand at room temperature 30 minutes before serving.
Other shapes and sizes:
Yields approx. 12 cupcakes (depending on size) or 1 single layer 11 x 15 inch sheet cake.
Double Recipe for a 2 layer 9 x 13 quarter sheet cake. Buy baking pans.
Adapted from Bon Appétit
Use a Cake Decorating Kit to decorate this cake!