The Pilgrim Loaf
Yield: 1 loaf, 12 slices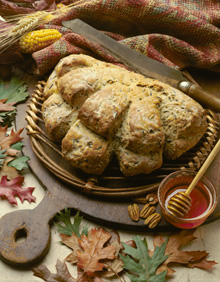 3 to 3-1/2 cups all-purpose flour
1/2 cup cornmeal
1 package (1/4 ounce or 2 1/4 tsp) Fleischmann's RapidRise Yeast
1 teaspoon salt
1 cup water
1/4 cup butter or margarine
2 tablespoons honey
2 tablespoons molasses
1-1/2 cups cooked wild rice or brown rice, cooled*
1/2 cup chopped pecans, walnuts or hazelnuts, toasted
2 tablespoons cornmeal
In a large bowl, combine 1 cup flour, 1/2 cup cornmeal, undissolved yeast, and salt. Heat water, butter, honey, and molasses until very warm (120 to 130 F). Gradually add to flour mixture. Beat 2 minutes at medium speed of electric mixer, scraping bowl occasionally. Stir in rice, nuts and enough remaining flour to make a soft dough. Knead on lightly floured surface until smooth and elastic, about 8 to 10 minutes. Cover; let rest 10 minutes.
Roll dough to 9-inch circle. Fold in half, slightly off center, so top layer is set back 1 inch from bottom edge. With sharp knife, make 4 equally spaced cuts from curved edge toward folded edge, about 2/3 of the way across loaf (cutting through both layers). Place on greased baking sheet that has been sprinkled with 1 tablespoon cornmeal. Cover; let rise in warm, draft-free place until doubled in size, about 45 minutes.
Sprinkle top of loaf with remaining cornmeal. Bake at 375 F for 30 minutes or until done. Remove from sheet; cool on wire rack.
* 1-1/2 cups cooked rice equals about 1/3 cup uncooked wild rice or 1/2 cup uncooked brown rice.
Nutrition Information Per Serving: 1 slice (1/12 of recipe, 3.4 ounces)
Calories 260; Total fat 8 g; Saturated fat 2.5 g; Cholesterol 10 mg; Sodium 240 mg; Carbohydrates 42 g; Dietary fiber 2 g; Sugars 6 g; Protein 6 g Source: Fleischmann's Yeast, a division of Burns Philp Food, Inc.
more Thanksgiving Recipes & Ideas