Strawberry Cheese Sweet Rolls
Yield: 12 rolls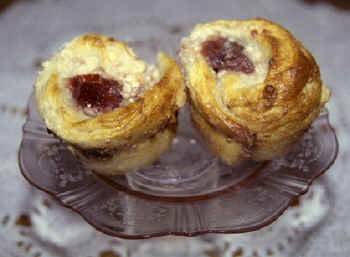 1 package active dry yeast
1/2 cup warm water
¾ cup warm milk
½ cup sugar
3½ to 4 cups unbleached flour
8 ounces cream cheese, softened
1 cup strawberry jam
1 egg, beaten
In a large bowl, dissolve yeast in warm water. Stir in milk and sugar. Add two cups flour, beating until smooth. Mix in enough remaining flour to form soft dough.
On a floured board, knead dough until smooth and elastic, about 5 minutes. Place dough in a greased large bowl, turning greased side up. Cover with wax paper and place in a warm place to double in bulk (about one hour).
Punch dough down and spread on a floured surface into a 7- by 12-inch rectangle. Spread with cream cheese to within one inch from edges. Spread strawberry jam on top of cream cheese. Starting with long edge close to you, roll dough with filling to opposite side, forming a long roll. Cut into 12 one-inch pieces. Slightly pinch one cut side closed and place into a greased muffin tin, pinched side down. Brush rolls with beaten egg. Cover with wax paper and let rise for 30 minutes.
Heat oven to 350 F. Brush rolls with beaten egg again and bake for 20 minutes or until golden brown. Let cool for a few minutes, then loosen edges of rolls with a small metal spatula. Remove from pan.