| | |
| --- | --- |
| | Fourth of July Recipes, Candy and Cake Decorating |
How to make flavored hard candy!
by Laurie Bacon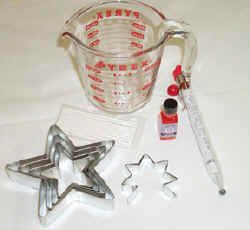 You will need:
candy thermometer
candy flavoring (Lorann works well)
sucker sticks
A small knife
candy funnel or heat resistant pouring spout
hard candy molds (metal or white plastic)
wax paper
non-stick cooking spray
red and blue food coloring
citric acid (optional)
little plastic bags with ties
The candy recipe:
Warning: Serious burn warning!!
Candy making is not recommended for kids, around kids and for home cooks that have little or no experience in the kitchen.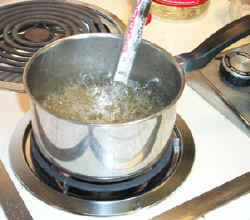 Hard candy recipe
2 cups sugar
2/3 cup white corn syrup
1 cup water
1 tsp. flavoring
red, blue food coloring
1/4 tsp. citric acid (optional)

Wash your molds 24 hours ahead of time so they can dry. Spray non-stick cooking spray into them and also on your metal molds. Do not use the clear molds that are used for chocolate, as they will melt.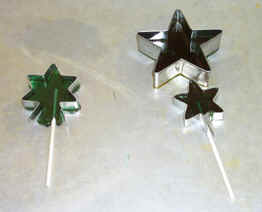 Put molds onto a greased flat surface with the sucker stick inserted.
Combine sugar, water and corn syrup in small saucepan. Cook on medium high to 300 degrees F. This is called the hard crack stage.
Remove from heat and let cool to 280 degrees F. Add the flavoring and food coloring. Stir until blended.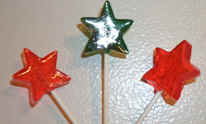 Pour into your molds and allow to cool until set. If you are using metal molds, they will be very hot.

Remove sucker or candy from mold and allow to cool further on another flat surface.

Tip: Oiling your hands with a cooking spray or canola oil, will prevent any sugar from sticking to your hands.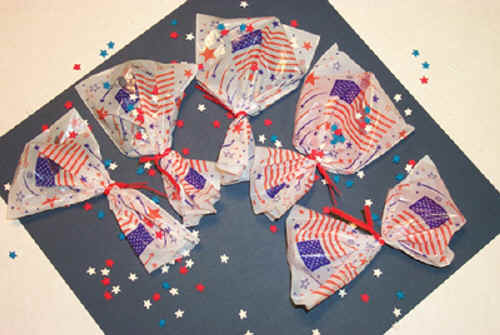 After candy is completely cooled place in a decorative bag or a clear bag with ties.
4th of July - Flag cake - Flag cupcakes - 4th of July candies - Uncle Sam Modeling
Omaha Steaks Free Shipping Sale!