Egg Rolls
2 dozen

1 lb. boneless lean pork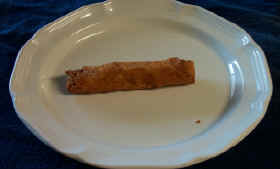 4 oz. fresh mushrooms
8 green onions
1 red bell pepper
1/2 head bok choy cabbage
1 can (8 oz.) water chestnuts
3 Tbs. dry sherry
1 1/2 Tbs. soy sauce
2 tsp. fresh ginger, minced
1 tsp. sugar
1/2 tsp. salt
1/4 cup water
1 1/2 Tbs. cornstarch
24 egg roll wrappers (Can get in an Asian food store)
4-5 cups vegetable oil for frying

On a cutting board, chop pork, mushrooms, onions, red pepper, cabbage and water chestnuts.

Transfer all chopped ingredients to a large bowl. Add sherry, soy sauce, ginger, sugar and salt. Mix well. Blend water and cornstarch in small cup. Mix well.

Place about 1/4 cup of the pork mixture evenly across one corner of the wrappers. Carefully roll wrappers around filling, folding in corners to seal.

Heat oil in large skillet over high heat. Cook about 3-4 rolls at a time until golden. About 3-5 minutes each. Drain on paper towels.

You can serve this with sweet and sour sauce.

Featured Recipes:
Chocolate - the food of the Gods
Step-by-step cake decorating
Featured Magazine:
Dessert Professional